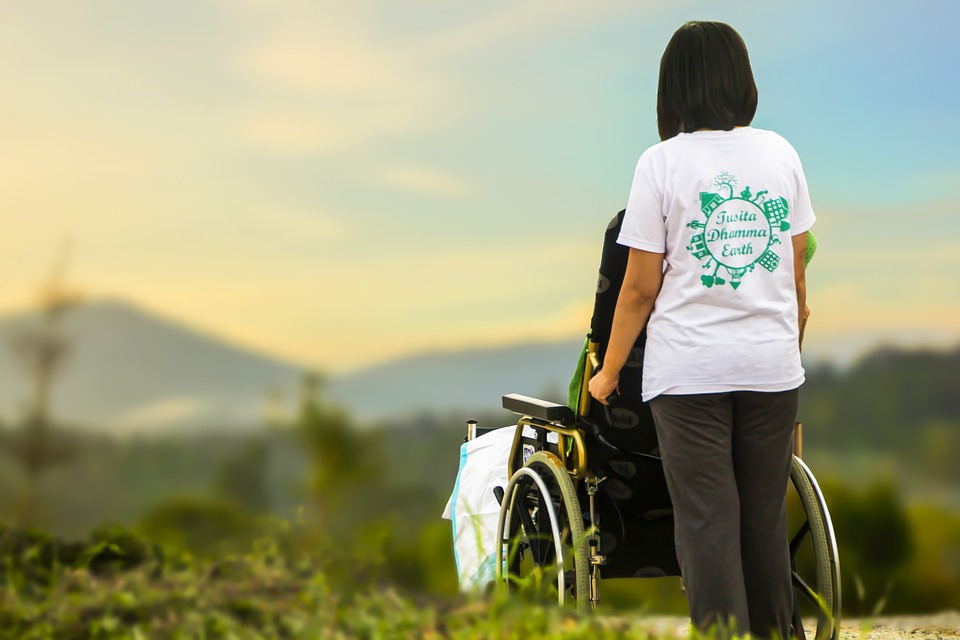 5 Ways to Improve Patient Care Home Experience
Making the decision to place a loved one into a nursing home can be a stressful and upsetting experience, but 2017 figures produced by Alzheimer's Society showed that one in six people aged 85 and over had permanent residency in a care home. This figure is evidential that although the initial choice can be emotionally straining, it is recognised that nursing homes are able to provide a higher level of care than what's available whilst living with family or alone,  which is the most important factor.
Under the care of trained professionals, those living in residential care homes will be provided with medical, physical and psychological treatment to help them with daily tasks and specialised care for their needs.
So what steps can carers take to improve the experience of a nursing home? Here we discuss all you need to know, to feel assured that your loved one is receiving the best treatment while living in a care home.
Many people don't realise that there is a difference between nursing homes and residential care homes, since the terms are used interchangeably. Care homes are run by qualified staff who provide 24-hour care, however nurses are only on site when needed such as administering medication. Nursing homes however have registered nurses constantly on site and are usually home to those with more complex medical needs.
Unless an individual has demanding medical requirements, then there is no clear line between which type of home is more beneficial; finding the right facility will vary for each person, so take your time.
However, with qualified staff in both homes what can they do to improve the experience for residents?
Professional Care & Nursing Training
The most important way that carers can improve nursing home experiences is the amount of relevant training that they complete. Aside from the basic training that's required to become a carer, all staff should be aware of the wide variety of conditions and struggles that residents can experience. No individual is the same so approaches will need to vary from person to person; this is an essential part of helping new residents settle into a nursing home in a stress-free way.
All residents should feel at home within their facility and staff are a big part of this. As well as recognising the medical needs of those they are caring for, staff should treat residents with respect. Having adult and neutral conversations will make individuals feel equal, instead of belittled and a nuisance.
Dementia Nursing Care and Stimulating Environment for Residents
Any carer providing personal care for the elderly should be aware of the benefits that a stimulating environment can bring, especially for those living with conditions such as dementia which can affect your level of self-esteem and motivation. Dementia can be a debilitating illness for sufferers and their families, however simple additions such as clear signage can reduce confusion and distress within nursing home. It's also common that those with dementia have a stronger long-term memory than they do short-term- it can be rewarding to provide nostalgic objects or music which will spark happy memories.
Taking part in enjoyable activities will encourage a positive outlook and reinforce well-being. Furthermore, it's important that residents maintain some familiarity, for example, if they regularly enjoyed listening to music or painting at home then this should be continued where possible. Day trips and a wide variety of activities will improve both motor skills and encourage independence in a safe and engaging way.
Adapted Physical Activities
According to NHS guidelines, those aged 65 and over are considered the most sedentary group, spending an estimated 10 hours or more lying or sitting down. That being said, it has been recognised that of those living outside of residential care with mobility problems, it can be difficult to go outdoors without fear or falling over. However, nursing homes, have trained staff members on hand to assist where needed while allowing individuals to maintain their independence. Outdoor activities such as gardening, walking, light exercise or even simply getting some fresh air can be great for physical conditions like arthritis and generally improving muscle strength for those taking part.
Person Centred Care
The term 'person-centred care' simply refers to a type of care that puts people and their families at the centre of decisions to develop solutions and routines that fit. It's about considering values, lifestyles and desires through good communication and a cohesive approach. When applied to nursing homes, this can improve the quality of life and feelings of control; despite living in a facility with assisted living, individuals and their loved ones should still have a say in their care plan where possible.
Randolph Hill Nursing Homes is an establishment with this type of care at the core its profession. We implement specialised care plans to ensure that our facilities meet the needs of each individual, putting them and their families at ease.
Balanced Diet
Making sure that older people have access to a nutritious and varied diet is essential to good care. Malnutrition and dehydration can be a problem amongst the elderly demographic, as many older people cannot cook for themselves, have a fear of incontinent issues or simply forget. However, high quality food and drink served in a routine will ensure that these problems don't occur; many elderly people have smaller appetites for it's important that each meal is full of nutrients.
But along with the health benefits of a good diet, the routine of eating meals also encourages social time. Residents should have the option to eat in the comfort of their room, as well as being encouraged to dine with other residents where they can sit with friends and dine in leisure. For those who have difficulty eating and need additional help, it may be a good idea to serve their meals in a separate area for a more private and comfortable dining experience.
How a Better Care Home Experience Can Help the Family and Friends?
As discussed, there are a number of ways that carers can improve nursing home experiences for residents which ultimately leads to a high quality of life. However, if you have been looking after an elderly relative in your home, or you recognise that they are struggling to look after themselves, then considering a nursing home for them can leave many people riddled with guilt. But, this decision should be seen as a positive step in improving quality of life as well as easing the amount of worry you may be experiencing.
Peace of Mind: Better Safety for Your Loved One
Arranging for a loved one to be moved into a nursing home will ease a lot of the worry you may have about providing adequate care. Trained nurses will have the knowledge and experience to administer medication, identify illnesses and overall take good care of residents that you may not be able to do at home.
24-hour care also means that elderly individuals will have more independence then they may have had living at home. Family and friends that cannot assist their loved ones constantly, may be restricting their quality of life, for example they may reduce the amount of time they spend outside due to fear of trips and falls. Nursing homes however can return a sense of independence while having safety precautions in place.
Better Care Home, Less Guilt
Although you may experience feelings of guilt when a loved one first goes into a residential care home, this is often the best scenario for the type of care they need. By making this change you are putting the health of your family member first which can only be a positive step. Furthermore, you should not feel guilty for admitting that caring for an elderly individual at home can be difficult and tiring, whether your a full-time carer or manage it around your job you may be not able to provide the requirements they need without it having a large demand on your life.
Finding the perfect nursing home for your loved one can be a difficult decision, but with over 30 years experience in residential care Randolph Hill Nursing Homes are the leading group in Scotland. With six homes across the country, each facility is staffed by a professional team dedicated to providing a high quality of care for all residents no matter their requirements. For more information on our nearest location, and the services we can provide get in touch today.
Blogs are for Marketing purposes and may not reflect Randolph Hill Groups views and opinions.