Carer Careers at Randolph Hill
Are you looking for an opportunity working in care?
Be part of our exceptional team delivering the highest level of care for older people.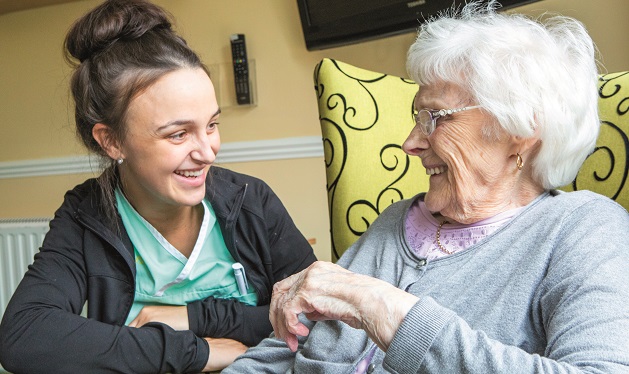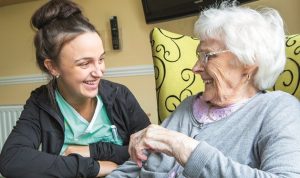 At Randolph Hill, we have enjoyed an enviable reputation for quality care provision for the elderly since 1985. Our culture is fun, fulfilling and rewarding in equal measure. Opportunities exist for carers to join our team on a permanent basis across our 7 homes in East Central Scotland.
With a reputation for quality care delivery and modern, purposely designed buildings in beautiful locations, Randolph Hill is the perfect place to develop your career.
In a recent staff survey, 100% of respondents would recommend Randolph Hill to others.
To view our current vacancies,   click here
The Randolph Hill difference
Download our carer staff benefits leaflet
Market leading rates of pay and accredited as a Living Wage Employer
Opportunities for further personal development progression. Statutory training and in-house training
Overtime rate paid at time and a third.
Fully-funded stakeholder pension scheme.
Enhanced sick pay scheme covering up to 28 weeks.
Recommend a Friend scheme offering £1,000 for nurses ad £500 for carers.
Staff retail and leisure discounts through our benefits hub portal, including up to 7% grocery and 20% technology discounts.
Positive Care Inspectorate grades across our Group – well organised homes with good staffing levels.
Consistency of management means stability for staff, residents and relatives (average Manager's service is over 10 years).
Long service holidays and awards
Free uniform
Low staff turnover against industry average (over a third of our overall staff have been here for 5 years or longer).
Good level of Senior Management support – including a Group Nursing Manager, Director of Nursing Homes Operations and Director of Care Standards.
A family feel to our organisation with 7 Nursing homes – all homes are extremely well supported.
Lower agency use as we have a successful Staff Bank which provides greater care continuity for both staff and residents.
Cycle to work scheme.
What do our staff say?
"It is important to me to be treated as a person and not just a number. This is achieved at Randolph Hill when the senior management team make an effort to get to know all the staff employed in all the homes."
"I have always had better job satisfaction when employed by a smaller company in comparison to larger care home providers."
"The rate of pay is competitive for the area."
"I enjoy the experience of caring for my residents and feel satisfied when I am able to make a difference in a resident's quality of life. Randolph Hill provides a very comfortable environment and resources to make that possible. Randolph Hill provide a good and safe working environment, quality care and co-operative management and these were the most important factors in making my decision to join Randolph Hill."
To find out more, please fill in the following form or contact Owen Edwards, Recruitment Manager on 07786 651500 or send full CV to owene@randolphhill.com
Applying from outside the UK?
If you are not living in the UK just now, as a general rule, we do NOT offer sponsorship to care assistants and would therefore ask that you do not apply if you are looking to work as a Care Assistant and require sponsorship.
Recruitment Form Enquiry (Carer)
By submitting your information, you agree to send it to Randolph Hill Nursing Homes Group who will process it and use it according to our privacy policy.
To view our current job vacancies, please click here.