Ashley Court nursing home, open since 1994, in the pleasant Morningside neighbourhood enjoys the convenience and great views of the city and countryside and provides high-quality nursing care for older people in a community setting.
Watch our videos
What our residents and their families say
Thanks for all you did for mum in the months she was in Ashley Court. She found everyone very kind and helpful, as did I.

LUCY, JOANNE AND ANDRE, CHILDREN Ashley Court

Thank you so much for the care given to my parents. I could not have wished for a better home for them in their final months. Everyone has a smile and a kind word, and nothing is too much trouble. With my heart-felt thanks and best wishes to you all.

PATRICIA, DAUGHTER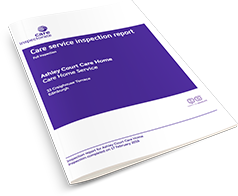 INSPECTION REPORT
Care homes in Scotland are regulated by the Care Inspectorate, taking into account of the National Care Standards. Randolph Hill Nursing Homes Group meets the requirements set down by the Care Inspectorate, the Social Care and Social Work Improvement Scotland (SCSWIS), standards.
Download

ALL ABOUT ASHLEY COURT
There has been some recent development work at Ashley Court and our brochures have all you need to know before arranging a visit at one of our homes. You can download it to read in your own time and share with other family members.
Download