Holmesview Care Home
Situated in West Lothian between Broxburn and Uphall, Holmesview was built in 2011. Our purpose-built nursing home has been designed to provide high quality nursing care for older people.
Features
Our services:
Nursing Care, Dementia Care, Palliative Care, Specialist Care, Pre-bookable respite
Attractively furnished ensuite bedrooms, all with nurse call system, TV, internet and phone access
Standard and premium bedrooms, some have a small turret or patio doors to the garden
Welcoming communal lounge and dining room in each suite
Beautifully maintained private and secure garden
A full and varied schedule of activities, and local community trips and outings in our own minibus
Want to find out more? Make an enquiry today.
What Our Residents and Their Families Say
I have been very impressed with the standard of care my father received. I know he was content, happy and genuinely well cared for. I realise that dementia is a difficult illness to deal with, but all the staff treated my father with respect and kindness and looked beyond the disease to the person, which is so important.

I was always given a warm welcome on arrival by your receptionist and found all the staff to be professional and friendly. The entertainment and outings have been varied and stimulating for my father and I know he particularly liked the personal gestures of letting him hold a kitten, and a visit to the Transport Museum; two of his favourite things.

My father never questioned why he was not in his own home. I feel that it was because of the warm atmosphere; a home from home. He really enjoyed the company and the wonderful food!

Most of all I have been impressed and grateful for the way my father was looked after during his last days, allowing him to die with dignity and in peace.

Rosemarie, Daughter of Resident, Holmesview

I would like to take this opportunity to thank each and every one of you for the care and attention shown to my mum.

I witnessed a level of care which I believe went way beyond the role of each person involved. I saw people coming in just to say hello or if going off, would say goodbye. It was lovely witnessing day and night staff coming in to see my mum on unscheduled visits. I believe this to be way beyond and above the normal call of nurse duty. I would like you to know that the family are grateful for all you did and should take great pride knowing my mum received the 110% care she deserved as all mums should get.

Kenneth, Son of Resident, Holmesview

Dad participates in many activities which I feel he enjoys and this stimulates him. Before entering the care home he did not do very much at all.

Craig, Son of Resident, Holmesview

My mum was one of the first residents to move into the home in Broxburn. While it was being built, we regularly took her down to see the building gradually taking shape and eventually became the modern, homely, well run establishment it is today.

Within a short period of time, my mum started to enjoy life again. I believe that Holmesview provided a holistic approach to her care.

As a family we will always be thankful to the staff at Holmesview for the fantastic care given to my mum, helping to eradicate previous memories relating to her care. I'm sure that at times my mum would have conveyed these same thoughts to the staff. Having worked within the care industry myself for 20 years, I believe that Holmesview have an excellent approach to care for the residents and their families.

Christine, Daughter of Resident, Holmesview

The home is maintained to an exceptionally clean and fresh environment.

Alastair, Husband of Resident, Holmesview

I have been a resident here for 10 months and I feel very much at home and one of the family. I am very well cared for and nothing is too much trouble. I especially enjoy the different activities provided, bus trips etc. Life is never dull or boring.

Margaret, Resident at Holmesview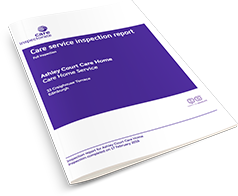 Inspection Report
Care homes in Scotland are regulated by the Care Inspectorate, taking into account of the National Care Standards. Randolph Hill Nursing Homes Group meets the requirements set down by the Care Inspectorate, the Social Care and Social Work Improvement Scotland (SCSWIS), standards.
Learn more

All About Holmesview
​Our brochures have all you need to know before arranging a visit at one of our homes. You can download it to read in your own time and share with other family members.
Learn more
Make an Enquiry
"*" indicates required fields