Nutrition
At Randolph Hill, Dunblane, our excellent in-house chef and kitchen team offer nutritionally-balanced, freshly prepared meals and aim to accommodate different tastes and diets as far as possible.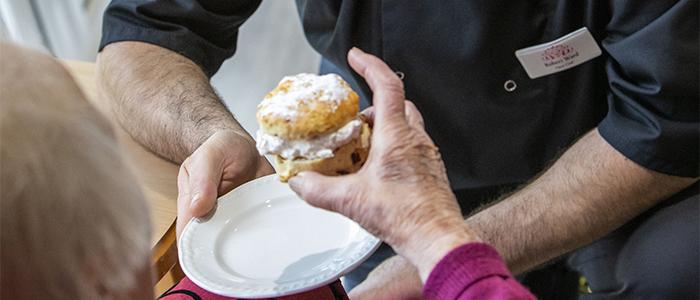 Dining
Nutrition is more than just about the food; our goal is to encourage socialising, and many people enjoy eating together in the dining room. Residents, of course, can choose where to eat and some prefer the privacy of their own room.
Weight Management
As we get older we may eat less and therefore our chef is responsible for providing interesting, nutritious and tempting meals tailored for our residents particularly for those who need to put on some weight after a spell of being unwell. Maintaining a healthy diet is an essential part of our care programme.
Varied Menu
We offer hot and cold meals, vegetarian options and the ever-popular puddings and the varied menu changes on a four-weekly cycle. There is plenty of flexibility if a resident has a particular like or dislike.
At our lunch and dinner sittings, we offer a choice of two hot meals or if  a resident is looking for a lighter bite, there is always the option to have a smaller plate or choose from the snack menu.
We like to bake a cake when a resident is celebrating a birthday, and often link meals to special events in the calendar such as St Andrew's Night. Our chef's superb home baking is enjoyed by many – especially by visitors!

All About Randolph Hill, Dunblane
Our brochures have all you need to know before arranging a visit at one of our homes. You can download it to read in your own time and share with other family members.
Learn more
What our residents and their families say
Thank you for the loving care and kindness that mum received. We would especially like to thank everyone who cared for mum in the final weeks of her life, and the way that we were always made to feel included and never in the way.

Elizabeth and Jane, Daughters of Resident, Randolph Hill, Dunblane

Thank you for the amazing way you cared for my mum. You just couldn't do enough for her, and it was so comforting to know that she was surrounded by such lovely people.

Christine, Daughter of Resident, Randolph Hill, Dunblane

We have found the staff to be very proactive and attentive in relation to Mum's personal needs. The home has a lovely garden area for better weather and also provides various activities and entertainment for the residents.

Daughter of Resident, Randolph Hill, Dunblane

Randolph Hill ensures that people are the focus of everything that they do. My Mum has enjoyed making new friends and learning some new interests.

Elaine, Daughter of Resident, Randolph Hill, Dunblane

We wanted to tell you what a great job the nurses and carers did for Gran.

Gran had her nails painted for the first time (at the age of 95!), and was delighted to show them to us. All the girls were brilliant with Gran, and the nurses we met were wonderful.

Our countless questions were answered in a way that showed they knew Gran well and gave us the facts in a considerate way that showed they cared. They were always there when it mattered, and couldn't have done more for us. For that we will always be grateful.

Granddaughter of Resident, Randolph Hill, Dunblane

Activity staff bring a welcome dimension both for those spending most of their time in the home and for those who can enjoy day trips out.

Jenni, Daughter of Resident, Randolph Hill, Dunblane

From the outset the staff made my father feel very much at home. He enjoyed the evening music sessions, occasional trips out and other activities. Throughout the whole of his stay the staff were unfailingly patient, empathetic and responsive to his changing needs.

I think I can speak for all the family in saying that his last few years could not have been spent in a better place, and he could not have been better looked after.

I am more than happy to acknowledge the superlative levels of care which I and the rest of the family always observed at Randolph Hill, and which my father had the benefit of, at the time of his life when he most needed it.

Son of Resident, Randolph Hill, Dunblane

Staff treated mum with care and patience way beyond what could be called routine. It would be wrong to name people – there were quite a few and probably others that we did not see! We appreciate the standard of care, they were a credit to you.

Son of Resident, Randolph Hill, Dunblane