Nutrition
At Muirfield, our excellent in-house chef and kitchen team offer nutritionally-balanced and freshly prepared meals and aim to accommodate different tastes and diets as far as possible.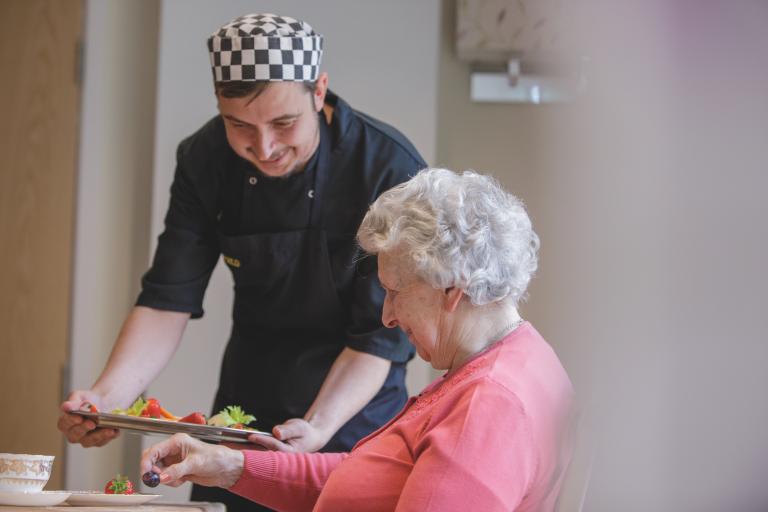 Dining
We believe nutrition is more than just about food and mealtimes are an important social gathering for those who wish to eat in our dining rooms. Of course, residents can choose where to eat and some prefer the privacy of their own room.
Weight Management
We may eat less as we get older and therefore maintaining a healthy diet is an essential part of our care programme. It is the responsibility of our chef and kitchen team to make food interesting, nutritious and tempting particularly for those who need to put on some weight perhaps after a spell of being unwell.
Varied Menu
Our varied menu changes on a four-weekly cycle and includes hot and cold meals, vegetarian options and popular puddings.
At our lunch and dinner sittings, we also have a choice of two hot meals or if residents are looking for a lighter meal, there is always the option to choose from our smaller plate or snack menu.
We like to make a cake when a resident is celebrating a special event like a birthday, and often link meals to other calendar events such as Burns Night. There is plenty of flexibility if a resident has particular likes or dislikes but our chef's legendary home baking rarely goes unappreciated (and is also much appreciated by visitors).

All About Muirfield
Our brochures have all you need to know before arranging a visit at one of our homes. You can download it to read in your own time and share with other family members.
Learn more
What Our Residents and Their Families Say
Just a short note to say thank you so much, to all of you, for looking after my father, and making his last months more comfortable.

Joanna, Daughter of Resident, Muirfield

I am so thankful for the wonderful support, particularly during the last couple of days of mum's life when the staff were so attentive – not only to mum's needs but ours as a family – always ensuring we were kept informed and included in her care. We were remembered at meal times and had a constant supply of hot drinks, which was so thoughtful.

It was wonderful, that whilst we had been worried mum might suffer, the staff ensured she was kept comfortable through this difficult time. It has certainly made me more aware of the extra effort made to ensure that what could be a harrowing time was easier to cope with.

Morag, Daughter of Resident, Muirfield

Thank you for the care you gave my brother. Although we were only able to visit a couple of times, we saw the care he was given. My sister-in-law, sent us the newsletter so we were able to keep up with events and pictures.

Georgina, Sister of Resident, Muirfield

We would like to thank all the staff for their support during my mother's stay, particularly near the end of her life when we felt so welcomed and free to spend as much time as we wished with her. The staff showed compassion and patience when mum was restless, and when it was difficult to care for her. We felt so glad that she was well looked after and loved by the staff.

Betty's Family, Muirfield

The accommodation is well planned and spacious and there is a wide range of activities and outings available.

Anne, Wife of Resident, Muirfield

The staff have an excellent rapport with the residents and take a real interest in their welfare.

Cousin of Resident, Muirfield

Lovely welcoming home. Staff take good care of my mum and I know she is safe and very happy there.

Daughter of Resident, Muirfield

Thank you for the excellent care given to my auntie. I got to visit her often at the home, and she had settled in so well. I was glad she was so near me, so I could return her past kindness to me – she was like a second mother to me.

Nephew of Resident, Muirfield

I couldn't rate the care home highly enough.

Robert, Husband of Resident, Muirfield