Rooms & Facilities
Accommodation
We have 60 single bedrooms with spacious ensuite shower facilities, arranged over three floors. There are two lifts which access each of the three floors. The freshly decorated bedrooms have telephone and Internet access, a wall mounted TV and a nurse call system, for prompt assistance.
Each floor has its own comfortable open plan lounge with wide screen TV, and dining area with a fully-fitted pantry and also an extra-quiet lounge. The conservatory on the ground floor has a door out into the grounds – always a popular place to sit with a cup of tea, or for gardening activities when weather permits.

Facilities
We are very lucky at Blenham House to enjoy a specially-designed, contemporary building. Accessibility, light, a sense of space, fresh decor and beautiful urban garden makes this an ideal place for older people.
We have all the advantages of being in a central urban setting and Blenham House has been designed to allow residents wonderful views of the city and the Pentland Hills.
Small Group Living
Our 60 bedrooms are arranged on three floors, with residents choosing which lounge and dining room they wish to spend time in. This makes for a warm and homely atmosphere where residents can form friendships and meet regularly.
Home From Home
Rooms can be personalised by the resident with their choice of wall colours and soft furnishings, and we encourage personal mementos and furniture, if space allows. As long as the layout gives us space to nurse in, we'll do our best to make rooms as homely and familiar as possible.
Each bedroom has an en-suite shower room. There is a nurse call, TV (including Sky) and a telephone and Internet point in every bedroom, with WiFi available throughout the home.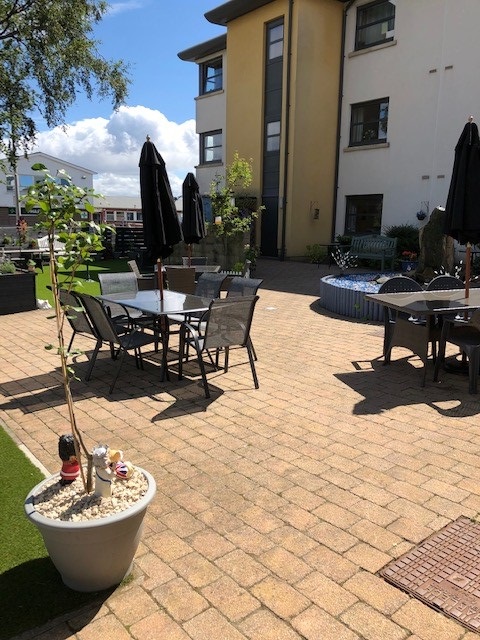 Communal Areas
The urban landscaped garden is safe, secure and a lovely place to watch the world go by or just enjoy a spot of sunshine. All areas are wheelchair friendly and specifically designed to support people with dementia. Residents enjoy a choice of beautifully decorated lounges, all equipped with Sky TV for activities and relaxation.
Our lounges can also double up as Blenham Houses's own in-house cinema! We have a drop down cinema screen for movie nights and special sporting events, which is a hit with all of our residents! We even have a reminiscence room which is also a favourite place for many residents.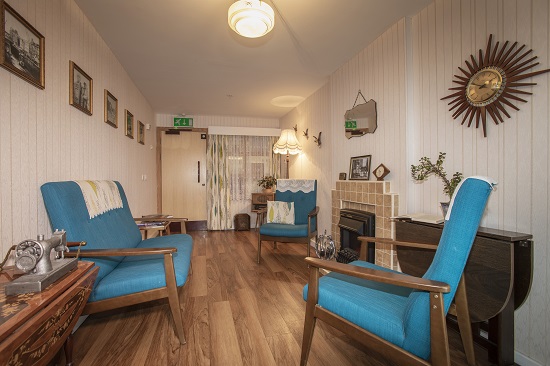 Keeping Up Appearances
We have a hair salon in the home and regular visits from an aromatherapist ─ we believe that relaxing and looking your best is important, even more so for older people.
Laundry
We understand that maintaining a sense of privacy and dignity is fundamental to enjoying life at Blenham House. That's why we take something as simple as laundry so seriously: fresh towels are supplied after each use and we label all clothes and make sure they are returned clean and pressed.
Visitors Welcome
Friends and relatives are encouraged to visit as often as possible and the unrestricted parking enjoyed at Sighthill makes dropping in very easy. To make visitors welcome there are small kitchens so you can make your own tea and coffee. Our chef loves to bake, and there's usually an array of homemade treats for visitors too!

All About Blenham House
Our brochures have all you need to know before arranging a visit at one of our homes. You can download it to read in your own time and share with other family members.
Learn more
What Our Residents and Their Families Say
I have to thank all at Blenham House for the love, care and attention given to mum. Fun and laughter were always the order of the day.

Claire, Daughter of Resident, Blenham House

My sister and I would like to express our deep gratitude to you all for the love and care you showed to our cousin.

Over the many years she was in care, you were indeed her family and we thank you for all the kindness and attention. Thanks, too, to the many members of staff who attended her funeral and the most beautiful floral tribute.

June, Cousin of Resident, Blenham House

I wanted to thank you and your extended team for the wonderful care my Great Aunt Di received. Yesterday was the fifth anniversary of her taking up residence. I have been delighted with the care she has received over this time as there have been many dark days.

You very kindly supplied extra carers in recent months, which supported her physically and emotionally to allow her to recover and hit yet another milestone. She was frail five years ago and I am thrilled that with the support of the staff she has enjoyed this warm and nurturing environment for these, her later years.

Katrina, Great Niece of Resident, Blenham House

All the family are so pleased with the care mum is receiving at Blenham House, all the staff are very friendly. Always something going on e.g. singing, bus trip etc. Blenham House itself is so light and airy with numerous lounges to use when visiting. Very well run.

Ann, Daughter of Resident, Blenham House