ACTIVITIES
The happiness and wellbeing of our residents is vitally important to us. We promote keeping the mind and body active to maintain health and a degree of independence.
Studies show that staying physically and mentally active can help to slow aspects of the ageing process. At Holmesview we certainly find that quality and enjoyment of life increases for our residents if they take part in our activity programme. Even a little gentle, regular physical exercise can improve muscle strength leading to that all-important sense of wellbeing.
We are very proud of the work that our activity staff do and at all of our homes, we deliver twice the recommended hours of activities advised by the Care Inspectorate.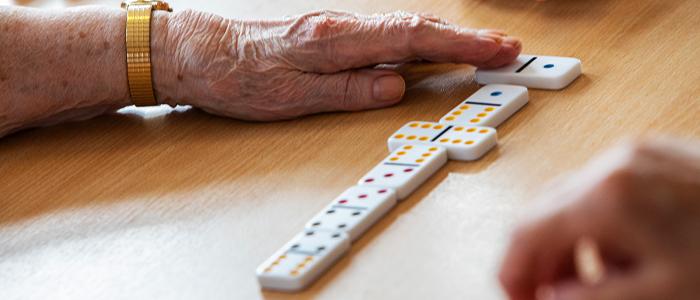 Activity C0-ordinators
We have a number of activity co-ordinators and the planned weekly programme means that there's something for everyone ─ from ballroom dancing, games of croquet and flower arranging to keep fit, singing and gardening*. Residents are gently encouraged to join in, whether they're pursuing a lifelong passion or discovering new interests. Have a look at a sample of our weekly activities*.
*Please note, activities vary from home to home and time of year.
Below is a sample activity schedule for Holmesview.
Our Own Transport
Having two of our own Randolph Hill Group minibus's means that residents' activities extend beyond events and classes within Holmesview, to those taking place locally within the community. We organise outings which may include a sightseeing tour to a lochside picnic or visiting a garden centre with a stop for coffee. Other community-based activities run on a regular basis including going to church services, coffee mornings, tea dances and shopping trips.
Lots to Choose From
Events and activities are hugely enjoyed at Holmesview and our dedicated team, full calendar and the availability of our own minibus ensures that the level of participation is high. We pride ourselves on our programme of activities at Holmesview, with around a single week seeing as many as 120 hours of scheduled activities. Click here to see an example of an activity at Holmesview.
Within Holmesview itself residents can watch films on the drop-down cinema screen in the sun lounge – there are regular screenings – and there are various outdoor pursuits in the lovely landscaped grounds.
All our activities are inspired by our residents and we're always open to suggestions for new ways to keep the mind alert and body in shape. Recent initiatives include the publication of a newsletter with two of our residents appointed as editor and reporter.

ALL ABOUT HOLMESVIEW
​Our brochures have all you need to know before arranging a visit at one of our homes. You can download it to read in your own time and share with other family members.
Download
What our residents and their families say
I have been very impressed with the standard of care my father received. I know he was content, happy and genuinely well cared for. I realise that dementia is a difficult illness to deal with, but all the staff treated my father with respect and kindness and looked beyond the disease to the person, which is so important.

I was always given a warm welcome on arrival by your receptionist and found all the staff to be professional and friendly. The entertainment and outings have been varied and stimulating for my father and I know he particularly liked the personal gestures of letting him hold a kitten, and a visit to the Transport Museum; two of his favourite things.

My father never questioned why he was not in his own home. I feel that it was because of the warm atmosphere; a home from home. He really enjoyed the company and the wonderful food!

Most of all I have been impressed and grateful for the way my father was looked after during his last days, allowing him to die with dignity and in peace.

Rosemarie, daughter Holmesview

I would like to take this opportunity to thank each and every one of you for the care and attention shown to my mum.

I witnessed a level of care which I believe went way beyond the role of each person involved. I saw people coming in just to say hello or if going off, would say goodbye. It was lovely witnessing day and night staff coming in to see my mum on unscheduled visits. I believe this to be way beyond and above the normal call of nurse duty. I would like you to know that the family are grateful for all you did and should take great pride knowing my mum received the 110% care she deserved as all mums should get.

Kenneth, son

Dad participates in many activities which I feel he enjoys and this stimulates him. Before entering the care home he did not do very much at all.

Craig, Son

My mum was one of the first residents to move into the new home in Broxburn, in January 2011. While it was being built, we regularly took her down to see the building gradually taking shape and eventually became the modern, homely, well run establishment it is today.

Within a short period of time, my mum started to enjoy life again. I believe that Holmesview provided a holistic approach to her care.

Margaret, assisted by Janice, manages the running of Holmesview in a professional, caring and supportive manner.

Extended family and friends were also treated with respect and asked if they would like refreshments while visiting, which in turn created a more relaxed atmosphere.

As a family we will always be thankful to the staff at Holmesview for the fantastic care given to my mum, helping to eradicate previous memories relating to her care. I'm sure that at times my mum would have conveyed these same thoughts to the staff. Having worked within the care industry myself for 20 years, I believe that Holmesview have an excellent approach to care for the residents and their families.

Christine, daughter

The home is maintained to an exceptionally clean and fresh environment.

Alastair, Husband