Kirk Lane is set in the historic Livingston Village and surrounded by the new town of Livingston. This impressive specially designed home has been completed to an exceptional standard and offers state of the art facilities for our 24/7 professional nursing care.
What our residents and their families say
The spacious luxurious accommodation with its beautiful and secure landscape gardens were just perfect.

Donald, Son of Resident, Kirk Lane

What a feeling to know that Mum stays in a place that is so well organised with a great atmosphere and many, many caring people.

Elaine, Daughter of Resident, Kirk Lane

The staff are extremely caring and so friendly and I know Mum is in very safe hands and is very well looked after. Little touches make all the difference.

Gill, Daughter of Resident, Kirk Lane

Gran is  fully accommodated for, and everything from her personal needs to her health and wellbeing is looked after. The chef even makes food to order for the residents which is fabulous for people such as my gran who are quite specific about the food they eat and how things are cooked.

Granddaughter of Resident, Kirk Lane

Uncle is always well dressed in matching outfits and clothes are very well laundered.

Niece of Resident, Kirk Lane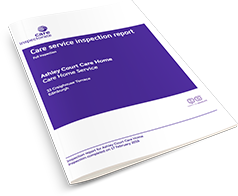 Inspection Report
Care homes in Scotland are regulated by the Care Inspectorate, taking into account of the National Care Standards. Randolph Hill Nursing Homes Group meets the requirements set down by the Care Inspectorate, the Social Care and Social Work Improvement Scotland (SCSWIS), standards.
Download

All About Kirk Lane
​Our brochures have all you need to know before arranging a visit at one of our homes. You can download it to read in your own time and share with other family members.
Download