Rooms & Facilities
Randolph Hill is delighted to announce our care home at Muirfield to replace the existing building. Although a new build, the home has been completed in a manner in keeping with it's surroundings in Gullane. The exterior matches the traditional build style of this part of East Lothian, while the interior has also had the same level of care and attention applied to it.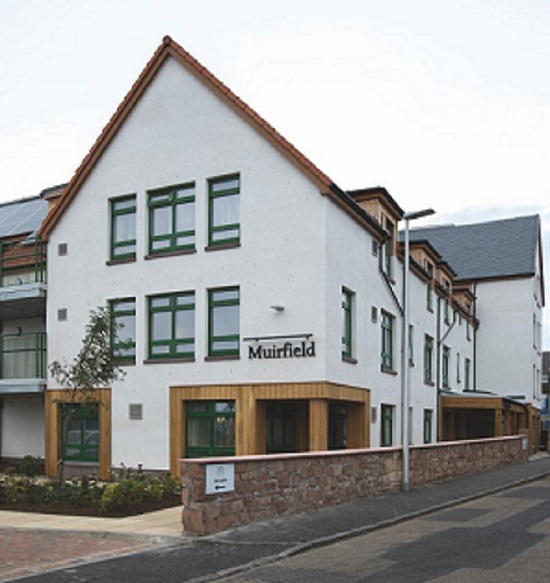 Accommodation
Muirfield offers a range of beautiful and well equipped rooms. Residents are able to choose between our standard sized rooms or larger premium and deluxe rooms offering enhanced finishes. All of our bedrooms offer full wet floor shower room ensuites finished with Porcelanosa ceramic tiling, with under floor heating.
Facilities
Our home is fully compliant with current best practice, offering full wet floor shower room ensuites for all residents. There are some beautiful shared spaces such as lounges with access to outside seating and state of the art facilities for nursing care.
Home From Home
Rooms can be personalised by the resident with their choice of wall colours and soft furnishings, and we encourage personal mementos and furniture, if space allows. As long as the layout gives us space to nurse in, we'll do our best to make rooms as homely and familiar as possible.
Each bedroom has an en-suite shower room. There is a nurse call, TV (including Sky) and a telephone and Internet point in every bedroom, with WiFi available throughout the home.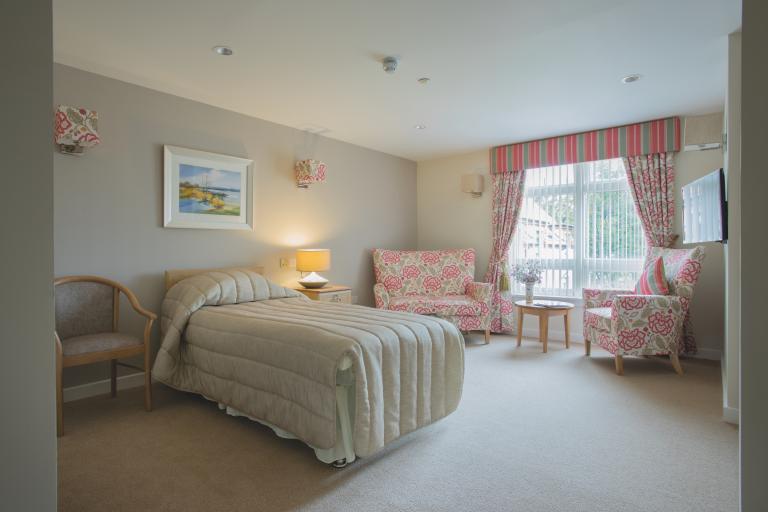 Communal Areas
Residents have a choice of lounges, with comfortable furnishings and different views of Gullane.
Our lounges can also double up as Muirfields's own in-house cinema. We have a drop down cinema screen for movie nights and special sporting events, which is a hit with all of our residents!
Our beautifully maintained gardens let residents enjoy the sun or become involved in seasonal gardening projects. Our gardens have been especially adapted with those with disabilities and six of our rooms have their own patio doors opening into this tranquil space. In the summer there are places to sit and watch life go by, and keep in contact with local people.
All areas of the home are wheelchair friendly and specifically designed to support people with dementia.
We are delighted to announce the opening of our Art Deco Ballroom with parquet dance floor which is on the top floor of the home. This is a great space for residents to enjoy music, dancing and socialising. We are looking forward to more dinner dances in our ballroom!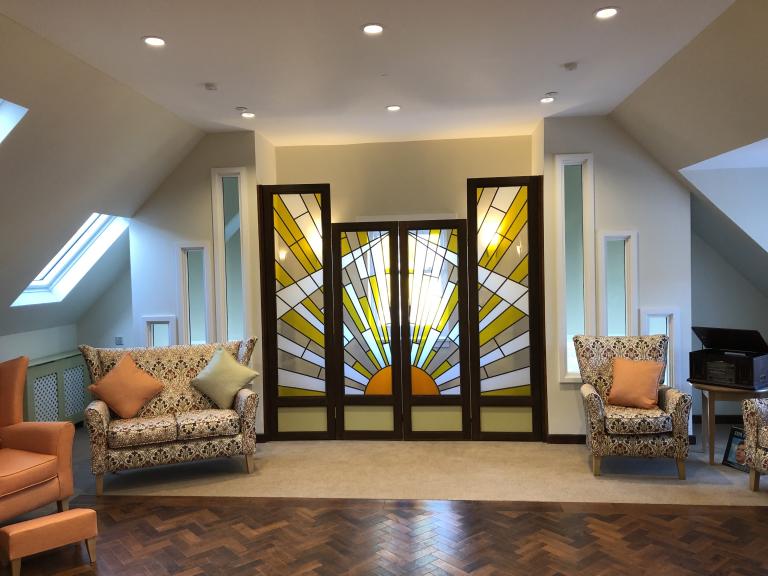 Laundry
We understand that maintaining a sense of privacy and dignity is fundamental to enjoying life at Muirfield. That's why we take something as simple as laundry so seriously: fresh towels are supplied after each use and we will label all clothes and make sure they are returned clean and pressed.
Keeping up Appearances
We have a hair salon in the home and regular visits by a hairdresser. We believe that looking your best is important, even more so for older people.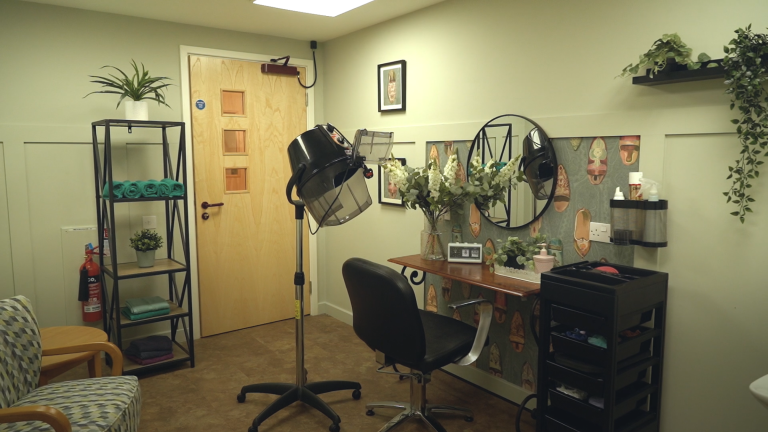 Friends Welcome
Friends and relatives are encouraged to visit as often as possible. Our chef is a very accomplished baker and there's usually an array of homemade treats for visitors as well too!

All About Muirfield
Our brochures have all you need to know before arranging a visit at one of our homes. You can download it to read in your own time and share with other family members.
Learn more
What our residents and their families say
Just a short note to say thank you so much, to all of you, for looking after my father, and making his last months more comfortable.

Joanna, Daughter of Resident, Muirfield

I am so thankful for the wonderful support, particularly during the last couple of days of mum's life when the staff were so attentive – not only to mum's needs but ours as a family – always ensuring we were kept informed and included in her care. We were remembered at meal times and had a constant supply of hot drinks, which was so thoughtful.

It was wonderful, that whilst we had been worried mum might suffer, the staff ensured she was kept comfortable through this difficult time. It has certainly made me more aware of the extra effort made to ensure that what could be a harrowing time was easier to cope with.

Morag, Daughter of Resident, Muirfield

Thank you for the care you gave my brother. Although we were only able to visit a couple of times, we saw the care he was given. My sister-in-law, sent us the newsletter so we were able to keep up with events and pictures.

Georgina, Sister of Resident, Muirfield

We would like to thank all the staff for their support during my mother's stay, particularly near the end of her life when we felt so welcomed and free to spend as much time as we wished with her. The staff showed compassion and patience when mum was restless, and when it was difficult to care for her. We felt so glad that she was well looked after and loved by the staff.

Betty's Family, Muirfield

The accommodation is well planned and spacious and there is a wide range of activities and outings available.

Anne, Wife of Resident, Muirfield

The staff have an excellent rapport with the residents and take a real interest in their welfare.

Cousin of Resident, Muirfield

Lovely welcoming home. Staff take good care of my mum and I know she is safe and very happy there.

Daughter of Resident, Muirfield

Thank you for the excellent care given to my auntie. I got to visit her often at the home, and she had settled in so well. I was glad she was so near me, so I could return her past kindness to me – she was like a second mother to me.

Nephew of Resident, Muirfield

I couldn't rate the care home highly enough.

Robert, Husband of Resident, Muirfield