Set in the pretty village of Gullane, East Lothian, Muirfield is a much-loved nursing home at the heart of the community. Opened in 2017, our magnificent specially designed home was recently completed to an exceptional standard.
What our residents and their families say
Just a short note to say thank you so much, to all of you, for looking after my father, and making his last months more comfortable.

Joanna, daughter Muirfield

I am so thankful for the wonderful support, particularly during the last couple of days of mum's life when the staff were so attentive – not only to mum's needs but ours as a family – always ensuring we were kept informed and included in her care. We were remembered at meal times and had a constant supply of hot drinks, which was so thoughtful.

It was wonderful, that whilst we had been worried mum might suffer, the staff ensured she was kept comfortable through this difficult time. It has certainly made me more aware of the extra effort made to ensure that what could be a harrowing time was easier to cope with.

Morag, daughter

Thank you for looking after mum. I think she was too unwell to understand much of what was happening, but the family appreciate all that you did for her. Thank you.

Ian, Bill, Alistair and Gibsen, sons

Thank you for the care you gave my brother. Although we were only able to visit a couple of times, we saw the care he was given. My sister-in-law, sent us the newsletter so we were able to keep up with events and pictures.

Georgina, sister

We would like to thank all the staff for their support during my mother's stay, particularly near the end of her life when we felt so welcomed and free to spend as much time as we wished with her. The staff showed compassion and patience when mum was restless, and when it was difficult to care for her. We felt so glad that she was well looked after and loved by the staff.

Betty's family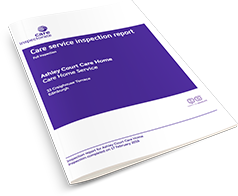 INSPECTION REPORT
Care homes in Scotland are regulated by the Care Inspectorate, taking into account of the National Care Standards. Randolph Hill Nursing Homes Group meets the requirements set down by the Care Inspectorate, the Social Care and Social Work Improvement Scotland (SCSWIS), standards.
Download

ALL ABOUT MUIRFIELD
Our brochures have all you need to know before arranging a visit at one of our homes. You can download it to read in your own time and share with other family members.
Download