Activities
Here at Fidra House, we have a number of activity coordinators, and the planned weekly programme means that there's something for everyone ─ from singing and trips to the beach to flower arranging and even pet therapy.
We gently encourage all of our residents to join in with activities that will benefit their physical and mental health, whether they're pursuing a lifelong passion or discovering new interests. Our activity coordinators always try to accommodate particular interests or talents as part of our person-centred approach to care, which means we take a holistic approach to treatment, tailored to each individual.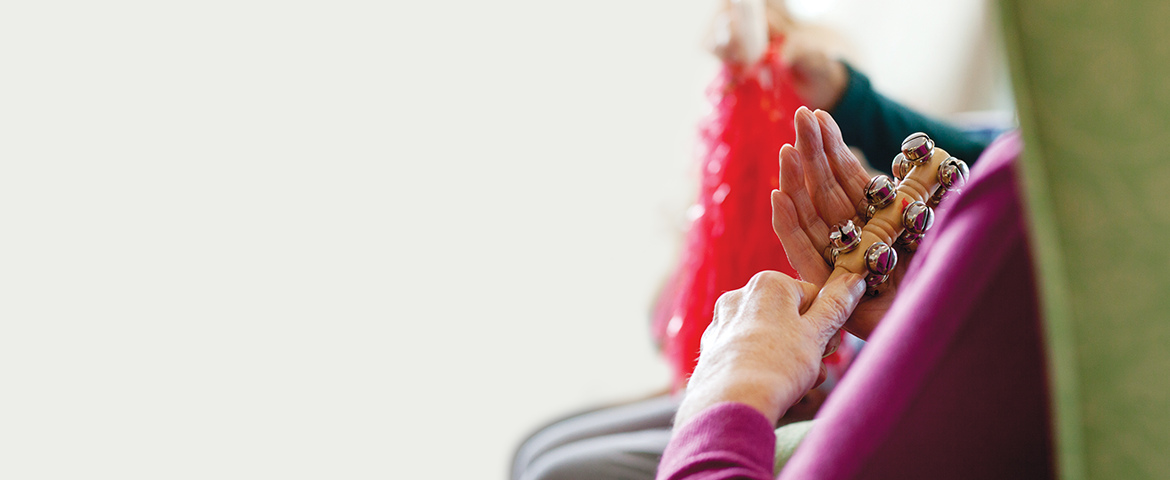 Our Activity Programme
Events and activities are hugely enjoyed at Fidra House and our dedicated team, full calendar and the availability of our own minibus ensures that the level of participation is high. We pride ourselves on our programme of activities at Fidra House, and we're always keen to get suggestions for activities from our residents to ensure that our schedule is tailored to them.
Below is a sample activity schedule for Fidra House. Please note, activities vary from home to home and time of year.
Day Trips and Outings
We're lucky enough to be based in beautiful North Berwick, giving us easy access to explore the rest of East Lothian in our mini buses. Our recent trips have included bus trips to visit the other pretty towns, villages and beachlines dotted along the coastline.
Other community-based activities we run on a regular basis include going to church services, coffee mornings, tea dances and shopping trips.
Activities Within Fidra House
We also have a comprehensive programme of activities within the home. We regularly hold creative activity sessions that our residents can take part in as an individual or a group. From painting to mosaics, these sessions allow our residents to use their imaginations, explore the creative side of their brain, and do something they may never have tried before. Many find arts and crafts to be a very relaxing pastime. We have also enjoyed indoor curling, as it's a popular choice.
We have also held sponsored garden walks, raising money for charity, and we regularly hold film nights in the lounge, projecting big-name films onto the big screen.
Visiting
We know how important contact with family and friends is to the physical and mental wellbeing of our residents. At this time, residents are allowed as many visits from all the people they would wish. Please check with Fidra House regarding any additional arrangements that are in place.
Pets
Some residents benefit from visiting pets and they are also welcome as long as they are kept under control and do not disturb other residents. Therapets are known to bring many health benefits and visit Fidra House too from time to time.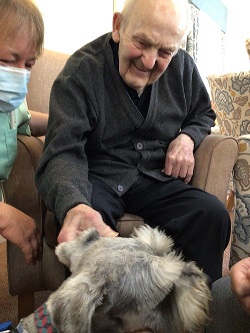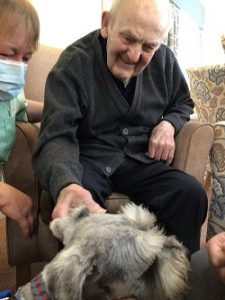 All About Fidra House
Our brochures have all you need to know before arranging a visit at one of our homes. You can download it to read in your own time and share with other family members.
Learn more
What Our Residents and Their Families Say
The rooms are always clean and fresh. Also, the care that goes into each resident looking so well looked after – hair lovely, well-dressed and cared for. Every visit, I leave with a smile.

Granddaughter of Resident, Fidra House

Many thanks for looking after mum. A special thank you to everyone up in Craig Suite for their very professional nursing care over the past two years. Such a loving, homely atmosphere and I was always made very welcome.

Luisa, Daughter of Resident, Fidra House

Before going to Fidra, she lived on her own from visiting Carers but was obviously depressed. Fidra care and staff have brought her back to life again.

Nephew of Resident, Fidra House

Meals are excellent and a good variety. I would not hesitate to recommend Fidra.

John, Son of Resident, Fidra House

There is always a nice atmosphere in the home and we know Dad was very happy. You have given us some lovely memories, of happy times we shared with Dad – the garden party and the street party being two of them.

We would especially like to thank the lovely staff in Craig Suite, who looked after Dad at all times with good humour, kindness, respect and obvious affection. Dad was certainly very fond of them all too. We would like to mention every one of them because each one contributed their own special talent to his care, especially in his final days, and made sure that he died peacefully and comfortably.

We are also grateful for the support which we received during this difficult time.

Mary and Anne, Daughters of Resident, Fidra House

How very grateful we are to you for looking after our dear mother, so caringly over the last three years of her life. It was a joy to see her so very happy and secure in your company. In her time with you she became free from the woes that had previously beset her during her failing years.

You do the most important of jobs, balancing professionalism with compassion. Your warm and respectful regard for those in your care does you great credit.

Mary, Daughter of Resident, Fidra House

Thank you so much for all of the kindness and care you showed my mum. You were a blessing to her and me, and it was good to have her nearer.

Shiona, Daughter of Resident, Fidra House