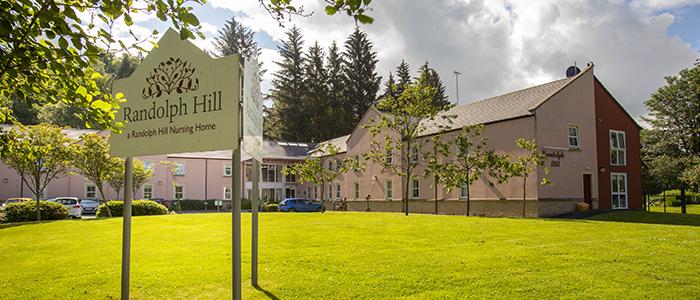 Rooms & Facilities
We have 60 single bedrooms with spacious ensuite shower facilities, arranged over two floors. A lift and a lovely central staircase provide access to the first floor. The freshly decorated bedrooms have telephone and Internet access, a wall mounted TV and a nurse call system for prompt assistance.
Facilities
We are very lucky at Randolph Hill, Dunblane to enjoy a specially-designed building, completed in 2006. Accessibility, light, a sense of space, fresh decor and beautifully landscaped gardens make this an ideal place for older people.
Small Group Living
Our 60 rooms are arranged in units of ten, with each group of ten residents sharing their own lounge and dining room. This makes for a warm and homely atmosphere where residents can form friendships and meet regularly.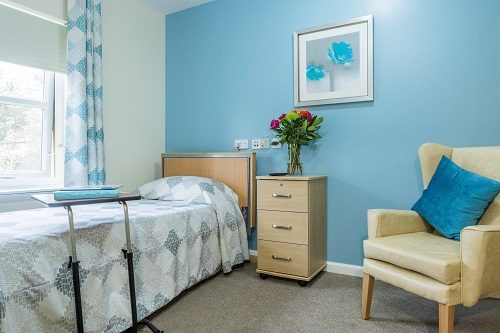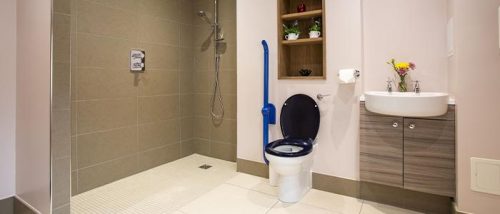 Home From Home
Rooms can be personalised by the resident with their choice of wall colours and soft furnishings, and we encourage personal mementos and furniture, if space allows. As long as the layout gives us space to nurse in, we'll do our best to make rooms as homely and familiar as possible.
Each bedroom has an ensuite shower room. There is a nurse call, TV (including Sky) and a telephone and Internet point in every bedroom, with WiFi available throughout the home.
Communal Areas
All of the lounges have wide screen TVs and there are pantry kitchens off every dining room. We encourage families to make themselves at home and put the kettle on.
We have a beautiful sun lounge on the ground floor and have patio doors leading out to the residents' garden, where pretty, winding paths give access to the lawn and flower beds. We have another patio area on the 1st floor where residents can relax, unwind and take in the lovely surroundings and picturesque views.
Our lounges can also double up as Randolph Hill's own in-house cinema. We have a drop down cinema screen for movie nights and special sporting events, which is a hit with all of our residents!
All areas are wheelchair friendly and specifically designed to support people with dementia.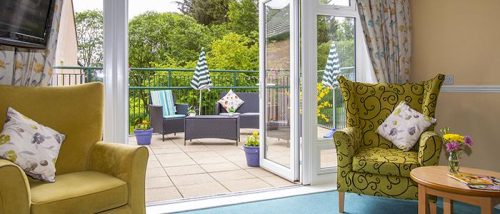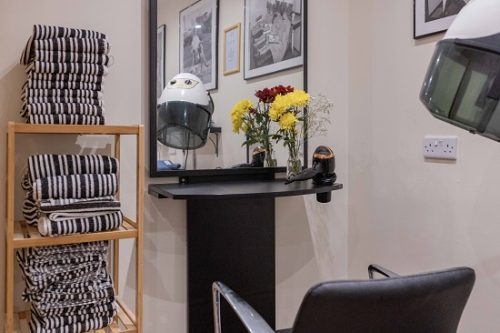 Laundry
We understand that maintaining a sense of privacy and dignity is fundamental to enjoying life at Randolph Hill, Dunblane. That's why we take something as simple as laundry so seriously: fresh towels are supplied after each use and we label all clothes and make sure they are returned clean and pressed.
Keeping up Appearances
We have a hair salon in the home and regular visits from an aromatherapist ─ we believe that relaxing and looking your best is important, even more so for older people.
Friends Welcome
Friends and relatives are encouraged to visit as often as possible, and to make visitors welcome there are small kitchens so you can make your own tea and coffee. Our chef is a very accomplished baker and there's usually an array of homemade treats for visitors too!

All About Randolph Hill, Dunblane
Our brochures have all you need to know before arranging a visit at one of our homes. You can download it to read in your own time and share with other family members.
Learn more
What Our Residents and Their Families Say
Thank you for the loving care and kindness that mum received. We would especially like to thank everyone who cared for mum in the final weeks of her life, and the way that we were always made to feel included and never in the way.

Elizabeth and Jane, Daughters of Resident, Randolph Hill, Dunblane

Thank you for the amazing way you cared for my mum. You just couldn't do enough for her, and it was so comforting to know that she was surrounded by such lovely people.

Christine, Daughter of Resident, Randolph Hill, Dunblane

We have found the staff to be very proactive and attentive in relation to Mum's personal needs. The home has a lovely garden area for better weather and also provides various activities and entertainment for the residents.

Daughter of Resident, Randolph Hill, Dunblane

Randolph Hill ensures that people are the focus of everything that they do. My Mum has enjoyed making new friends and learning some new interests.

Elaine, Daughter of Resident, Randolph Hill, Dunblane

We wanted to tell you what a great job the nurses and carers did for Gran.

Gran had her nails painted for the first time (at the age of 95!), and was delighted to show them to us. All the girls were brilliant with Gran, and the nurses we met were wonderful.

Our countless questions were answered in a way that showed they knew Gran well and gave us the facts in a considerate way that showed they cared. They were always there when it mattered, and couldn't have done more for us. For that we will always be grateful.

Granddaughter of Resident, Randolph Hill, Dunblane

Activity staff bring a welcome dimension both for those spending most of their time in the home and for those who can enjoy day trips out.

Jenni, Daughter of Resident, Randolph Hill, Dunblane

From the outset the staff made my father feel very much at home. He enjoyed the evening music sessions, occasional trips out and other activities. Throughout the whole of his stay the staff were unfailingly patient, empathetic and responsive to his changing needs.

I think I can speak for all the family in saying that his last few years could not have been spent in a better place, and he could not have been better looked after.

I am more than happy to acknowledge the superlative levels of care which I and the rest of the family always observed at Randolph Hill, and which my father had the benefit of, at the time of his life when he most needed it.

Son of Resident, Randolph Hill, Dunblane

Staff treated mum with care and patience way beyond what could be called routine. It would be wrong to name people – there were quite a few and probably others that we did not see! We appreciate the standard of care, they were a credit to you.

Son of Resident, Randolph Hill, Dunblane