Blenham House, opened in 2006, is situated in the bustling neighbourhood of Sighthill, Edinburgh and provides high-quality nursing care for older people in a community setting.
We continue to offer the best care as we follow government guidelines in response to COVID 19
It is important to keep our staff and residents safe and we are performing weekly tests of staff for Covid in line with Government advice to limit the spread of the virus. All staff in our homes wear masks along with additional personal protective equipment, where necessary, to prevent any transfer of infection.
The Government have issued updates to the stage 3 visiting plan. Risk Assessments and procedures need to be approved by the local Public Health team. Home management will now plan how a phased process will work to keep everyone safe and will communicate to all residents and families as soon as possible.
We know the significance of staying connected with loved ones when there are still visiting restrictions and our team help residents with Skype, WhatsApp and FaceTime in order to keep in touch.
Our enthusiastic activity coordinators have found new ways of keeping residents active following social distancing guidelines such as garden entertainment, individual craft making and games in small groups.
Click here for our latest update.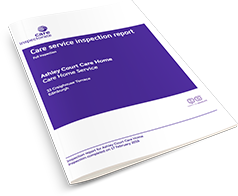 INSPECTION REPORT
Care homes in Scotland are regulated by the Care Inspectorate, taking into account of the National Care Standards. Randolph Hill Nursing Homes Group meets the requirements set down by the Care Inspectorate, the Social Care and Social Work Improvement Scotland (SCSWIS), standards.
Download

ALL ABOUT BLENHAM HOUSE
Our brochures have all you need to know before arranging a visit at one of our homes. You can download it to read in your own time and share with other family members.
Download
What our residents and their families say
I have to thank all at Blenham House for the love, care and attention given to mum. Fun and laughter were always the order of the day.

CLAIRE, DAUGHTER Blenham

My sister and I would like to express our deep gratitude to you all for the love and care you showed to our cousin.

Over the many years she was in care, you were indeed her family and we thank you for all the kindness and attention. Thanks, too, to the many members of staff who attended her funeral and the most beautiful floral tribute.

June, cousin Blenham House

I wanted to thank you and your extended team for the wonderful care my Great Aunt Di received. Yesterday was the fifth anniversary of her taking up residence. I have been delighted with the care she has received over this time as there have been many dark days.

You very kindly supplied extra carers in recent months, which supported her physically and emotionally to allow her to recover and hit yet another milestone. She was frail five years ago and I am thrilled that with the support of the staff she has enjoyed this warm and nurturing environment for these, her later years.

Katrina, great niece Blenham House

All the family are so pleased with the care mum is receiving at Blenham House, all the staff are very friendly. Always something going on e.g. singing, bus trip etc. Blenham House itself is so light and airy with numerous lounges to use when visiting. Very well run.

Ann, Daughter Blenham House