Fidra House is a purpose built nursing home nestling within leafy grounds close to the heart of the community. Situated in the pretty coastal town of North Berwick and set in leafy grounds with trees, we provide high-quality nursing care for older people in a community setting.

Getting Started Guide
The process of considering a care home can be a stressful and emotional journey, both for the person going into care and their family. We're here to make the journey a little easier for you by sharing everything you need to know when you're considering a care home for a loved one. From how (and where) to search for a care home, to finding out about fees, we've rounded up all the need-to-know information to help you make the best choice for you and your family.
Getting started

Rooms & Facilities
Fidra House, our North Berwick nursing home, is especially designed with the needs of older people in mind. The interior is spacious, lending a real feel of airiness to the building, this in combination with beautiful landscaped gardens and full accessibility makes Fidra House the ideal location for older people who value a high-quality standard of living. Set across 3 floors, our 60 single bedrooms have ensuite showers, internet access, telephone, nurse call system and wall mounted private TVs. The rooms enable our residents to maintain their independence in their own exclusive living space with all the assistance they require nearby.
There are rooms currently available and we are welcoming new residents.
Find out more

Fees & Funding Guide  
Fidra House fees reflect the specialist and tailored 24/7 nursing care along with the highest quality accommodation and facilities.
Fees are payable by the individual but you may be eligible for help depending on your circumstances. We have put together an essential guide to help you with important facts and figures.
Find out more

The Team
David Livingstone, Manager
I have worked in care homes for over 14 years, and during this time have progressed from care assistant, and senior roles, to my current position as manager. I also have a First Class Honours degree in Health and Social Care.
I work closely with my deputy manager, Jill Paterson, in leading the team of support staff, trained carers and dedicated nurses. We are passionate about providing the highest standard of care and respect to each one of our residents.
We also run a full activity schedule with plenty of variety to keep mind and body active both within the home and the local community.
If you would to know more about Fidra House and services on offer please get in touch with Jill or me and we will be happy to assist.
Find out more

Nutrition
Our outstanding chef and his kitchen team formulate and cook exceptional meals for the residents of Fidra House. Using his extensive knowledge and experience he produces nutritious and interesting meals for the resident's enjoyment. We firmly believe that quality food is the mainstay of a quality life and constantly strive to impress our residents with innovative meals. We always try to use the freshest ingredients, sourced in Scotland whenever possible. The menu is changed every month to provide the residents with ample variety.
Find out more

Activities
We place a strong emphasis on activities at Fidra House and encourage residents to spend as much time as they want enjoying all the activities on offer. We currently devote twice as many hours to activities as officially recommended by the care inspectorate in order to keep our residents entertained and engaged.
Find out more
What our residents and their families say
The rooms are always clean and fresh. Also, the care that goes into each resident looking so well looked after – hair lovely, well-dressed and cared for. Every visit, I leave with a smile.

Granddaughter of Resident, Fidra House

Many thanks for looking after mum. A special thank you to everyone up in Craig Suite for their very professional nursing care over the past two years. Such a loving, homely atmosphere and I was always made very welcome.

Luisa, Daughter of Resident, Fidra House

Before going to Fidra, she lived on her own from visiting Carers but was obviously depressed. Fidra care and staff have brought her back to life again.

Nephew of Resident, Fidra House

Meals are excellent and a good variety. I would not hesitate to recommend Fidra.

John, Son of Resident, Fidra House

There is always a nice atmosphere in the home and we know Dad was very happy. You have given us some lovely memories, of happy times we shared with Dad – the garden party and the street party being two of them.

We would especially like to thank the lovely staff in Craig Suite, who looked after Dad at all times with good humour, kindness, respect and obvious affection. Dad was certainly very fond of them all too. We would like to mention every one of them because each one contributed their own special talent to his care, especially in his final days, and made sure that he died peacefully and comfortably.

We are also grateful for the support which we received during this difficult time.

Mary and Anne, Daughters of Resident, Fidra House

How very grateful we are to you for looking after our dear mother, so caringly over the last three years of her life. It was a joy to see her so very happy and secure in your company. In her time with you she became free from the woes that had previously beset her during her failing years.

You do the most important of jobs, balancing professionalism with compassion. Your warm and respectful regard for those in your care does you great credit.

Mary, Daughter of Resident, Fidra House

Thank you so much for all of the kindness and care you showed my mum. You were a blessing to her and me, and it was good to have her nearer.

Shiona, Daughter of Resident, Fidra House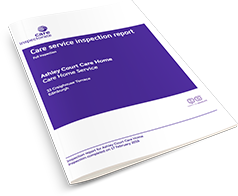 Inspection Report
Care homes in Scotland are regulated by the Care Inspectorate, taking into account of the National Care Standards. Randolph Hill Nursing Homes Group meets the requirements set down by the Care Inspectorate, the Social Care and Social Work Improvement Scotland (SCSWIS), standards.
Download

All About Fidra House
Our brochures have all you need to know before arranging a visit at one of our homes. You can download it to read in your own time and share with other family members.
Download