Randolph Hill Care Home
Situated in the heart of the green and leafy town of Dunblane and within beautiful grounds, Randolph Hill provides high quality nursing care for older people in a community setting.
Features
Our services:
Nursing Care, Dementia Care, Palliative Care, Specialist Care, Pre-bookable respite
Attractively furnished ensuite bedrooms, all with nurse call system, TV, internet and phone access
Welcoming communal lounge and dining room in each suite
Beautifully maintained private and secure garden
Hair and beauty salon
A wonderful selection of daily activities, and local community outings in our own minibus
Want to find out more? Make an enquiry today.
What our residents and their families say
Thank you for the loving care and kindness that mum received. We would especially like to thank everyone who cared for mum in the final weeks of her life, and the way that we were always made to feel included and never in the way.

Elizabeth and Jane, Daughters of Resident, Randolph Hill, Dunblane

Thank you for the amazing way you cared for my mum. You just couldn't do enough for her, and it was so comforting to know that she was surrounded by such lovely people.

Christine, Daughter of Resident, Randolph Hill, Dunblane

We have found the staff to be very proactive and attentive in relation to Mum's personal needs. The home has a lovely garden area for better weather and also provides various activities and entertainment for the residents.

Daughter of Resident, Randolph Hill, Dunblane

Randolph Hill ensures that people are the focus of everything that they do. My Mum has enjoyed making new friends and learning some new interests.

Elaine, Daughter of Resident, Randolph Hill, Dunblane

We wanted to tell you what a great job the nurses and carers did for Gran.

Gran had her nails painted for the first time (at the age of 95!), and was delighted to show them to us. All the girls were brilliant with Gran, and the nurses we met were wonderful.

Our countless questions were answered in a way that showed they knew Gran well and gave us the facts in a considerate way that showed they cared. They were always there when it mattered, and couldn't have done more for us. For that we will always be grateful.

Granddaughter of Resident, Randolph Hill, Dunblane

Activity staff bring a welcome dimension both for those spending most of their time in the home and for those who can enjoy day trips out.

Jenni, Daughter of Resident, Randolph Hill, Dunblane

From the outset the staff made my father feel very much at home. He enjoyed the evening music sessions, occasional trips out and other activities. Throughout the whole of his stay the staff were unfailingly patient, empathetic and responsive to his changing needs.

I think I can speak for all the family in saying that his last few years could not have been spent in a better place, and he could not have been better looked after.

I am more than happy to acknowledge the superlative levels of care which I and the rest of the family always observed at Randolph Hill, and which my father had the benefit of, at the time of his life when he most needed it.

Son of Resident, Randolph Hill, Dunblane

Staff treated mum with care and patience way beyond what could be called routine. It would be wrong to name people – there were quite a few and probably others that we did not see! We appreciate the standard of care, they were a credit to you.

Son of Resident, Randolph Hill, Dunblane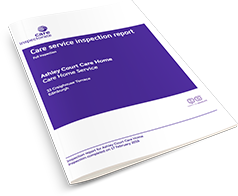 Inspection Report
Care homes in Scotland are regulated by the Care Inspectorate, taking into account of the National Care Standards. Randolph Hill Nursing Homes Group meets the requirements set down by the Care Inspectorate, the Social Care and Social Work Improvement Scotland (SCSWIS), standards.
Learn more

All About Randolph Hill, Dunblane
Our brochures have all you need to know before arranging a visit at one of our homes. You can download it to read in your own time and share with other family members.
Learn more
Make an enquiry
"*" indicates required fields