Activities
Events and activities are hugely enjoyed at Randolph Hill and our dedicated team, full calendar and the availability of our own minibus ensures that the level of participation is high. We pride ourselves on our programme of activities at Randolph Hill.
From learning new skills to pursuing lifelong hobbies, we offer lots to keep our residents busy, and our full schedule always balances activities designed to stimulate our residents' minds, and those that get their bodies moving for gentle exercise.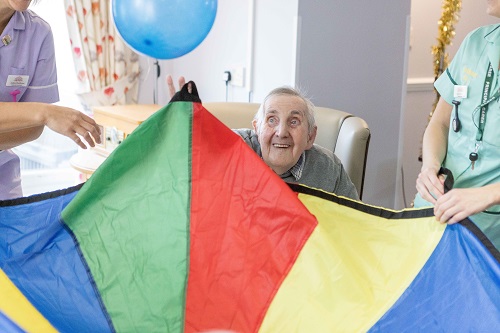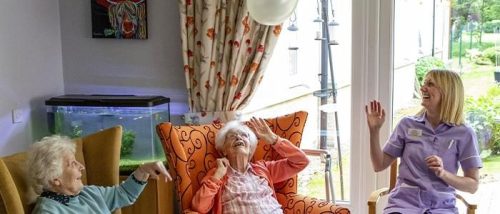 Our Activity Programme
We are very proud of the work that our activity staff do and we're always keen to hear from our residents about what activities they'd like to do, ensuring we create a schedule of activities that's tailored to them.
Below is a sample activity schedule for Randolph Hill, Dunblane.  Please note, activities vary from home to home and time of year.
Day Trips and Outings
Having our own minibus will give our residents the opportunity not only to attend events and classes within Randolph Hill but also to also take advantage of visiting the local community. As we come out of the restrictions brought in with the pandemic, we are re-building relationships with the Dunblane community and hope to re-introduce and accompany  outings within the local area such as services at Dunblane Cathedral, attend coffee mornings, and pick up their own shopping.
We plan to also run day trips to local sites of interest in and around Dunblane. These trips have been popular in the past, allowing our residents to see places they may never have visited before, and enjoy what this beautiful part of the world has to offer.
Many of our residents are also keen participants in the Cycling Without Age scheme. This allows care home residents to enjoy the freedom of riding a bike, even if they have reduced mobility, by offering free bike rides on trishaws. Residents can feel the wind in their hair and share stories with the young volunteer rider taking them on a trip. It's a great way to build intergenerational relationships, and many of our residents feel relaxed and peaceful after a trip with Cycling Without Age.
Activities Within Randolph Hill
We also offer a full programme of activities within the home. Our residents love to get pampered, and we often hold aromatherapy and foot spa sessions, which they come away from with a feeling of relaxation. We also offer massage to ease any aches and pains our residents might be feeling, and leave them more calm, as well as hairdressing and manicures to boost confidence and leave our residents feeling great about themselves.
We also offer plenty of activities to get our residents moving as even a little gentle, regular physical exercise can improve muscle strength leading to that all-important sense of wellbeing. We often play parachute games with our residents, and many enjoy getting out in the garden for a walk.
Visiting
We know how important contact with family and friends is to the physical and mental wellbeing of our residents. At this time, residents are allowed as many visits from all the people they would wish. Please check with Randolph Hill regarding any additional arrangements that are in place.
Pets
Some residents benefit from visiting pets and they are also welcome as long as they are kept under control and do not disturb other residents. At Randolph Hill everyone enjoys the visits and loves spending time with our beloved Therapets too.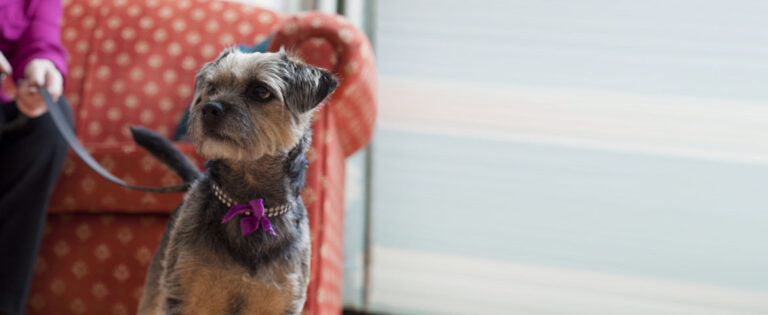 All About Randolph Hill, Dunblane
Our brochures have all you need to know before arranging a visit at one of our homes. You can download it to read in your own time and share with other family members.
Download
What our residents and their families say
Thank you for the loving care and kindness that mum received. We would especially like to thank everyone who cared for mum in the final weeks of her life, and the way that we were always made to feel included and never in the way.

Elizabeth and Jane, Daughters of Resident, Randolph Hill, Dunblane

Thank you for the amazing way you cared for my mum. You just couldn't do enough for her, and it was so comforting to know that she was surrounded by such lovely people.

Christine, Daughter of Resident, Randolph Hill, Dunblane

We have found the staff to be very proactive and attentive in relation to Mum's personal needs. The home has a lovely garden area for better weather and also provides various activities and entertainment for the residents.

Daughter of Resident, Randolph Hill, Dunblane

Randolph Hill ensures that people are the focus of everything that they do. My Mum has enjoyed making new friends and learning some new interests.

Elaine, Daughter of Resident, Randolph Hill, Dunblane

We wanted to tell you what a great job the nurses and carers did for Gran.

Gran had her nails painted for the first time (at the age of 95!), and was delighted to show them to us. All the girls were brilliant with Gran, and the nurses we met were wonderful.

Our countless questions were answered in a way that showed they knew Gran well and gave us the facts in a considerate way that showed they cared. They were always there when it mattered, and couldn't have done more for us. For that we will always be grateful.

Granddaughter of Resident, Randolph Hill, Dunblane

Activity staff bring a welcome dimension both for those spending most of their time in the home and for those who can enjoy day trips out.

Jenni, Daughter of Resident, Randolph Hill, Dunblane

From the outset the staff made my father feel very much at home. He enjoyed the evening music sessions, occasional trips out and other activities. Throughout the whole of his stay the staff were unfailingly patient, empathetic and responsive to his changing needs.

I think I can speak for all the family in saying that his last few years could not have been spent in a better place, and he could not have been better looked after.

I am more than happy to acknowledge the superlative levels of care which I and the rest of the family always observed at Randolph Hill, and which my father had the benefit of, at the time of his life when he most needed it.

Son of Resident, Randolph Hill, Dunblane

Staff treated mum with care and patience way beyond what could be called routine. It would be wrong to name people – there were quite a few and probably others that we did not see! We appreciate the standard of care, they were a credit to you.

Son of Resident, Randolph Hill, Dunblane