Randolph Hill Launches TV Advert
From January 2023 you may see our new Randolph Hill Group TV adverts on STV. We are very proud of the facilities and care provided to all of our residents, and we wanted to make others aware of our exceptional services.
The content within the adverts, however, may be different to what you might have seen from other care home providers. We deliberately chose to avoid a show-round of all of our modern facilities and purpose built surroundings across all of our seven homes, as these are already available to view on our website.
However, for our TV adverts, we wanted to communicate a message across East and Central Scotland to other families who may be worried about an increasingly frail relative living at home, who they feel is vulnerable, lonely and isolated. We know that considering residential care for a loved one who can no longer care for themselves can be emotional and stressful, and perhaps some don't know where to turn to for help.  Our intention with our TV communication is to relate and reach out to those facing this situation, and we wanted you to understand that.
The opening TV scenes are therefore represented by a solemn voice and a dimly lit chair.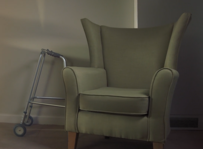 As light begins to stream in and wrap itself around the chair, you'll notice the Randolph Hill personality creeping in, highlighting the contrast of life in our nursing homes; reassurance, care and trust, with warmth and brightness. We completely understand and, with many years of experience, are here to help.
The advert then shows a resident enjoying an activity with a friendly carer, and how a typical day can be.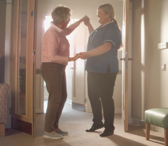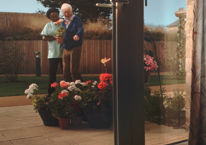 Our two adverts were filmed in the new Kirk Lane Nursing Home in Livingston. The adverts feature actors playing the roles of nurse and carer, as well as the roles of residents, Bill and Jean, who feature in other Randolph Hill advertising. Bill and Jean represent residents with interesting stories to share, and they demonstrate that life continues at Randolph Hill, whether it's continuing a lifelong hobby or taking up a new interest.
We hope that when you see the adverts, you will understand why we have chosen to take this approach, and will feel reassured that your loved family member is already benefiting from care in one of Randolph Hill's nursing homes.